The Telecommunications Program supports the publication of geospatial visualizations related to its loan and grant portfolio. These visualizations are intended to help stakeholders easily identify possible partnerships and to aid in the review of new loan and grant applications. The Telecommunications Program is eager to continue its GIS efforts as a public service to provide a clear representation of its ongoing investments in rural America and Agency objectives.
Telecommunications Program Funded Service Areas
The Telecommunications Program Funded Service Areas Map includes the service areas of entities who have received a RUS loan and/or grant under the following program area(s): Broadband Initiatives Program, Farm Bill Broadband Program, Telecommunications Infrastructure Program, and the ReConnect Program. Community Connect (CC) projects that were obligated after Calendar Year 2014 are also available on the map. If the entity received a CC award prior to CY 2015 but has other service areas included under different program(s) in the map, those CC projects will also appear on the map.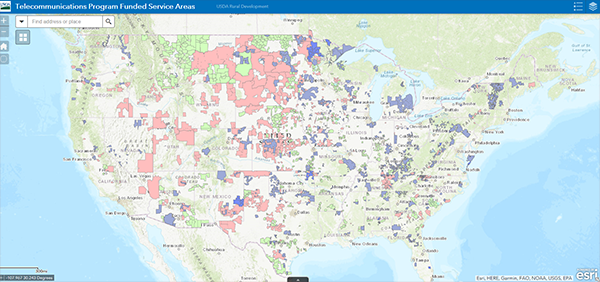 Distance Learning and Telemedicine Grant Recipients
This map identifies all of the Distance Learning and Telemedicine sites that were approved since the Fiscal Year 2017 application window. Specific grant purposes, such as STEM and opioids, are also identified as separate layers on the map.