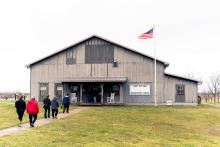 Just a few minutes south on Route 27 from Nicholasville is arguably one of the most important Civil War locations in the commonwealth.
At the start of the Civil War, Kentucky declared its neutrality, but when the Confederacy tried to take the state by force in 1861, the legislature sought Union assistance, and there its alliance with the Union began to take shape. In June 1863, Union forces started constructing what would eventually become Camp Nelson. 
At its height, the camp covered roughly 4,000 acres and included, among other things, a bakery and a steam-driven water pump that brought water up almost 500 feet from the Kentucky River to a 50,000-gallon reservoir. 
Camp Nelson also grew to be one of the largest African American recruitment centers in the country and housed more than 3,000 refugees.
"You talk about the start of the civil rights movement … African Americans who came here to stand up and say, 'I'm here to fight for freedom!'," said Jessamine County Judge Executive David West. "That's the beginning of the civil rights movement as far as I'm concerned."
Fast forward to 2015, and Jessamine County has preserved what's left of the Camp Nelson core as Camp Nelson Civil War Heritage Park, which included two noncontiguous pieces of land separated by a private farm. In 2015, the owner of the farm approached the county and offered the farm for sale shortly after her husband passed away. Thanks to a low-interest Rural Development Community Facilities loan, the county was able to purchase the farm and restore part of the camp's core property.
Camp Nelson is designated a National Historic Landmark, but with the camp's core area reunified, the county approached the National Park Service about designating the camp a national monument.
"Because of the USDA's program, we were able to get this done," said West, "and President Trump was able to name this a national monument."
Camp Nelson is Kentucky's first – and currently only – national monument.
Obligation Amount
$699,100
Congressional District
KY-06
Senator's Last Names
McConnell, Paul