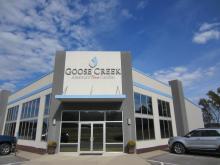 Goose Creek Candles is a family-owned company that was founded in 1998 by Chuck Meece in a small Kentucky town.
Along with his wife, Tamara, Chuck grew Goose Creek Candles from producing candles from his home to having mass production facilities across the United States.
In order to help cut costs, the Meeces decided to use a $49,895 Rural Energy for America Program grant to replace an older, inefficient heating/ventilation/air conditioning system in their headquarters and add insulation. These upgrades will save about 77,700 kWh of evergy annually, which equates to over $3,800 per year.
Obligation Amount
$49,895
Congressional District
KY-01
Senator's Last Names
McConnell, Paul