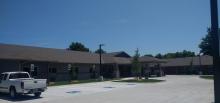 Henderson Health Care Services' long term care facility, built in 1960, had reached the end of its useful life.  The electrical and mechanical systems were failing and out of date.  Electrical and data line infrastructure was an issue due to the advancement of modern technology and equipment. The facility was not Americans with Disabilities Act compliant.  Resident bathrooms were too small to accommodate mechanical lifts for residents and  for staff to assist them. Due to the outdated mechanical systems, proper temperature control and air exchange could not be achieved.  The layout of the facility and location of ancillary services in relation to residents lacked efficiency. 
USDA Rural Development assisted Henderson Health Care Services, Inc. with a $5 million loan to construct Legacy Square, a new 35,938 square foot 40 bed long term care facility in Henderson.  
"Legacy Square represents the respect and value for those we serve. We have a beautiful facility filled with amazing staff and residents.  A place where relationships develop and quality health care prospers," said CEO Cheryl Brown, Henderson Health Care Services, Inc.  
The new facility features 38 resident rooms, two living and dining areas, two serving kitchenettes and one activity kitchenette, family rooms, activity areas, staff/nursing offices, reception, lounge, lockers, and work areas, nurse/medicine rooms, library, beauty shop, and sitting areas, bathing room, conference room, center courtyard, mechanical, utility, laundry, and storage areas, and concrete parking to the north and west of the new facility.
 
Obligation Amount
$5,000,000
Congressional District
Smith (03)
Senator's Last Names
Fischer and Sasse