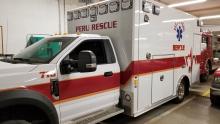 The city of Peru currently utilizes a 2004 Ford/Wheeled Coach ambulance as its primary and a 1991 Ford/Wheeled Coach as the back-up. The 1991 model has reached the end of its useful life. The 2004 model is two-wheel drive making it treacherous in bad weather, reducing the response time to emergency calls or accessing a medical facility.
"With funding from USDA Rural Development, the Peru Rescue Squad was able to acquire an updated ambulance which allows for access to emergencies in inclement weather which may not have been possible with the prior ambulance," said Fire Chief Brent Lottman, Peru Fire Department. "The Peru Rescue Squad is better able to serve the residents of the City of Peru, Peru Rural Fire District and Peru State College because of Rural Development.  The USDA staff was great to work with and extremely helpful throughout this process." 
USDA Rural Development assisted the city of Peru with a $59,300 direct loan and $50,000 grant to purchase a new Type 1 2019 Ford/Osage four-wheel drive ambulance to be used as the primary ambulance for the service area.  This provides improved services to the community while maintaining cost of service. 
Obligation Amount
$59,300 Loan and $50,000 Grant
Congressional District
Smith 03
Senator's Last Names
Fischer and Sasse