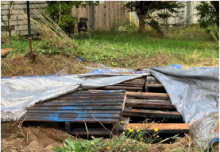 Ellen called the Kitsap Public Health District in the summer of 2019 to report her failing septic system. When the health inspector arrived, a blue tarp was the only thing covering a dangerous hole filled with sewage. 
As a low-income senior citizen who lost her partner and lives solely on Social Security, Ellen is at the center of a multi-generational home where resources are pooled.
Unfortunately, due to income and debt, Ellen was not qualified for the commonly used Clean Water Loan. Living with a failed septic system was not an option, so she and her health inspector, Renee Johnson, turned to the USDA for help. Through the process, the global COVID-19 pandemic raged, and protecting human health from raw sewage became even more critical. It took vision, hope, and a committed team including Ellen, Renee, USDA loan specialist Terry Butler, and septic system installer Ron Hemley to make it happen. 
The $10,000 project was completed in December 2020 and was funded in February 2021 with 100 percent grant funding from the USDA Rural Development's Section 504 Home Repair Program.
Thanks to everyone's efforts and a USDA grant, Ellen and her family are proud owners of a new 3-bedroom septic system! Now they can flush the toilet, wash dishes, and do laundry without fear of sewage bubbling up in the yard. They rest easy knowing the dangerous, smelly hole that was in their yard is safely filled, and they have a new, functioning system to treat and dispose of their sewage. 
Regardless of a person's income, safe and sanitary conditions are essential. No family should have raw sewage in their yard, and in this case, the USDA was able to help this rural family thrive while also protecting public health and improving the health of the watershed. 
Story by Renee Johnson, Kitsap Public Health District
Obligation Amount
$10,000
Congressional District
District 6
Senator's Last Names
Murray, Cantwell