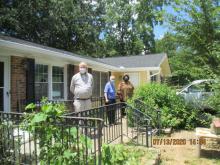 Ms. Dearing sought help for extensive home improvements; her local Rural Development housing team delivered. "Program knowledge and experience was key in this case," recalls Wesley Sparks, loan specialist.  The structure was badly in need of work to bring it to safe, decent and sanitary conditions. Wes and loan assistant Qula Peay went straight to work to maximize the programs available in Rural Development's toolbox. "In the end we repaired, restored and refinanced Ms. Dearing's home while reducing her monthly mortgage payment by $120.00,"  said Sparks.
For starters, the team used the Single-Family Housing 504 Home Repair Grant Program for debris removal, pest control and other projects to make the home sanitary. Next, they addressed safety issues on the home's septic, electrical, plumbing and HVAC systems.  In all there was more than $50,000 of repairs completed through a combination of the Single-Family Housing 502 Direct Loan and the 504 Home Repair Programs. 
In addition to making the repairs to her home, Wes advised refinancing her high interest loan from 5.85% modified to 1% with Rural Development's payment assistance plan.  Working with her trusted contractor, Jerry Jones Construction and the knowledgeable Rural Development team Ms. Dearing now has a beautiful, safe, decent and sanitary place to call home.  "I couldn't have done this without Wes and Jerry," said Ms. Dearing.
Obligation Amount
Obligation amounts are confidential for homeowners
Congressional District
GA-10 Representative Jody Hice
Senator's Last Names
Perdue, Loeffler