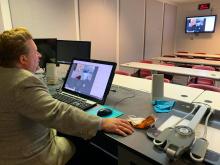 Beaufort County Community College serves a rural population of traditional and high school students who are all working towards a degree.
   Many rural students have the convenience of being able to easily travel to their classes.
The barriers of the miles of ocean and remote locations keep others from visiting their home campus.
   With the assistance of a $329 thousand Distance Learning and Telemedicine Grant from USDA Rural Development BCCC is closing boundaries of remote learning.
   Traveling to a satellite campus and receiving instruction was the definition of remote learning ten years ago. Now students are able to have education available to them at the ends of their fingertips with the availability of high-speed internet and technology seen in 1960's cartoons. 
   The DLT grant is enabling remote classrooms to be set up in six rural high schools, in eastern North Carolina, enabling students to receive higher education without having to travel. 
   "For some students this is a convenience factor where their classes won't be disrupted," said Beaufort County Community College Marketing and Public Relations Coordinator Attila Nemecz. "For others this will greatly relieve a financial burden of transportation."
   BCCC serves some of the most rural counites in North Carolina.
   "In our service areas we have Tyrell and Hyde counties," said Nemecz. "Combined they have less than 10,000 people. Hyde County is split between Ocracoke Island and the mainland making it even more removed."
   High-speed internet is unavailable in many homes in the area served by BCCC due to their location.
   Through the BCCC's Career and College Promise Programs with funding from USDA RD high school students can receive access, at no charge, to core requirements for an associate's degree while they are upper classmen.
   "It's about access," said Nemecz. "We give them that step to have that semester or two knocked ahead of time and make their college education cheaper. Some students graduate high school with an associate's degree. It's rare but it happens."
   James Braxton Boyd is a junior at Northside High School in Pinetown, N.C., he is working to graduate with a diploma and an Associate's Degree in Science from BCCC.    
   He works daily on his family's 6,500 acre farm while pursuing his education.
   Through CCPP program he can further his education while contributing to the family farm.
   Last semester he was able to listen to lectures through his phone while helping his father harvest corn.
   "The program was made available to our school's top 30 students," said Boyd. "I was ranked number 10. I had heard about it since freshman year and I was glad to have the opportunity."
   Getting the degree wrapped up by high school graduation will require taking summer classes. Boyd is not deterred as he enjoys the work, knowing it is moving him closer to a degree in Bachelor's Degree Crop and Soil Science Technology from N.C. State.
   "It really blows my mind sometimes," said Boyd. "I am working on my family farm and earning my degree all at the same time."  
   The technology BCCC is investing in is not simply a camera holding a single shot of an instructor with a white board behind him or a picture-in-picture where white board barely maintains focus.
   Each class that is broadcast has the production value of a major network's evening news.
   An operator is stationed in a production booth monitoring a multi-camera production.  They have the ability to switch between the instructor and white board or assist in scrolling through Power Point presentations.
   If questions come from the in person or remote students the operator can switch to the students to better see and hear them.  Microphones stationed throughout the classroom enable the questions and comments to be clearly heard.
   "This is saving my parents money," said Boyd. "I don't have to drive to the campus to ask the professor questions during office hours. About the only time I come to the campus is if I want to."
   BCCC is expanding the CCPP program to include degrees in the nursing field and other non-credit continuing education programs.
Obligation Amount
$329,000
Congressional District
Greg Murphy
Senator's Last Names
Burr, Tillis