Sallie Clark
State Director of Colorado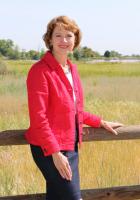 Colorado State Director Bio

On November 13, 2017, Sallie Clark was appointed by President Donald J. Trump to serve as the State Director for USDA Rural Development in Colorado. 
Previously, Clark was elected to serve as an El Paso County Commissioner and represented District 3 from November 2004 to January 2017 where she served as Board Chair and Vice Chair.  Through her long standing relationships developed with Colorado Counties, Inc. (CCI) and the National Association of Counties (NACo), she has represented rural America.  In 2015, she was elected as President of NACo, and was the first Coloradan to have been elected as NACo president.  During this capacity, she also served on NACo's Rural Action Caucus.
Clark became a military wife in 1980 when she married Welling Clark. She is a long-time resident of Colorado and has family roots in Colorado; her father was born and raised in Pueblo and she spent every summer on her grandmother's farm there.  She loves Colorado, and continues to appreciate our open spaces, mountain scenery and especially the Pikes Peak area.  She enjoys hobbies such as cooking, hiking, biking, horseback riding, tennis, golf and reading.
Clark is a small-business entrepreneur and has owned her own business since 1986. She worked in the medical profession, prior to opening her own business. She is well-respected by her peers and her community as evidenced by her continued service on many non-profit and government committees.
Awards and recognition:
2006-2007 United Way Campaign Council Chair

2006 Accolades Award from the Southern Colorado Women's Chamber

2010 Elected Official of the Year from the Colorado Springs Chamber of Commerce

2010 Heroes of Mental Health Award from Pikes Peak Behavioral Health/Aspen Pointe

2011 Women of Influence Colorado Springs Business Journal

2012 Woodsum-Daniel Award to protect children from child abuse and neglect

Best Civic Leader, Best Role Model and Best County Commissioner from Colorado Springs Independent Newspaper

Graduate of the 2015 Harvard Kennedy School of Business, Senior Executive Leadership Program